Bronwyn's Writing and More
This is the place to check on the latest series and giveaways! Have you read them all? Check out the list and make Bronwyn Scott novels a 2018 New Year's Resolution.
Wednesday, May 30, 2018
RWA Literacy Book Signing, July 2018
Come out and see me for a good cause!
Posted by

Bronwyn Scott
at 12:53 PM
No comments:

Blini are Russian pancakes. They are a featured food in "Compromised by the Prince's Touch," Book #1 in The Royals of Kuban series. Check out the house party breakfast scene where they become a point of interest between our hero, Nikolay, and the villain, Amesbury. Blini can be thick or they can be thin like crepes. They can be topped with anything. Traditional toppings include berries, sour cream and caviar. And, they are delicious! Many Russian holidays and special occasions feature blini.
Blini with sour cream and caviar as featured at
www.jamesbeard.org
Here's a recipe to try blini on your own (or you can see the recipe in original form here:
https://www.splendidtable.org/recipes/true-russian-blini
Sponge:
1 package active dry yeast (2 1/4 teaspoons)
1 cup warm water (115°)
2 teaspoons sugar
1/2 cup all-purpose flour
Blini:
2 cups warm milk, or a little more as needed
4 tablespoons unsalted butter, melted, plus more for brushing the blini
2 1/4 to 2 1/2 cups all-purpose flour
4 tablespoons sugar, or more to taste
2 teaspoons salt, or more to taste
2 large eggs, separated, yolk beaten
Peanut oil for frying
1 small potato, halved
Instructions
For Serving: melted butter, sour cream, at least two kinds of smoked fish, caviar if you wish, and strawberry jam.
Make the sponge: In a large mixing bowl, stir together the yeast, water, and sugar and let stand until foamy, about 10 minutes. Whisk in the flour until smooth. Place the sponge, covered, in a warm place until bubbly and almost doubled in bulk, about 1 hour.
Into this sponge, beat in the milk, butter, 2 1/4 cups of the flour, egg yolks, sugar, and salt. Whisk the batter until completely smooth and set to rise, covered loosely with plastic, until bubbly and doubled in bulk, about 1 1/2 hours. Stir the batter well and let rise, once more in a warm place, covered, for 45 minutes. Beat the egg whites until they form soft peaks and fold them into the batter.
Pour some oil into a small shallow bowl and have it ready by the stove. Skewer a potato half on a fork and dip it into the oil. Rub the bottom of a 7-inch cast iron skillet or a heavy non-stick pan with a long handle liberally with the oil. Heat the pan over medium heat for 1 1/2 minutes. Using a potholder, grip the skillet by the handle, lift it slightly off the heat and tilt in toward you at a 45-degree angle. Using a ladle, pour enough batter into the skillet to cover the bottom in one thin layer (about 1/4 cup). Let the batter run down the skillet, quickly tilting and rotating it until the batter covers the entire surface. Put the skillet back on the burner and cook until the top of the blini is bubbly and the underside is golden, about 1 minute. Turn the blini and cook for 30 seconds more, brushing the cooked side with a little melted butter. If the skillet looks dry when you are turning the blini, rub with more oil.
Repeat with the rest of the batter, greasing the pan with the oiled potato before making each blini. Slide each blini as it is made into a deep bowl, keeping the cooked blini covered with a lid or foil. Serve the blini hot, with the suggested garnishes.
https://www.splendidtable.org/recipes/true-russian-blini
Posted by

Bronwyn Scott
at 12:51 PM
No comments:

It's finally spring here in the Pacific Northwest. It comes so late, we almost miss it. It's May now and we are careening towards midsummer in just a few weeks with hours and hours of daylight. Whether it's May Day and moving the cattle to the summer pastures, or Maslenitsa, the world is full of celebrations that surround the arrival of spring. Maslenitsa is mentioned twice in the Royals of Kuban series. First, it's mentioned as the theme for Klara's house party in Richmond where the plotters gather to plan revolution, in Book #1 Compromised by the Prince's Touch. It's also mentioned in Book #3, out Aug. 1, 2018, Awakened by the Prince's Kiss. So, what is this festival?
Maslenitsa celebrates the coming of spring. This year, it was celebrated March 4-10. It's a Russian holiday that changes every year in order to correspond to the Russian Orthodox calendar. Some call it Russian Mardi Gras since it take place the week before the beginning of Russian Orthodox Lent.
Like Mardi Gras, this is a week of feasting. In case you're wondering, maslo is the Russian word for butter, and sometimes, Maslenitsa is referred to as butter week.
The week is full of foods and traditions as people say good bye to the winter and hello to spring.
The big foods associated with the holiday are blini! (Russian pancakes). These are eaten with all kinds of toppings like berries or caviar or even sour cream. You can look the blini and other traditions here on this fun video https://www.youtube.com/watch?v=kHvOilwKxkk
Other traditional foods include sweets made with honey.
Non-food based traditions include burning Maslenitsa, as you can see in the video. Maslenitsa is burned on the last day of the festival to usher out winter.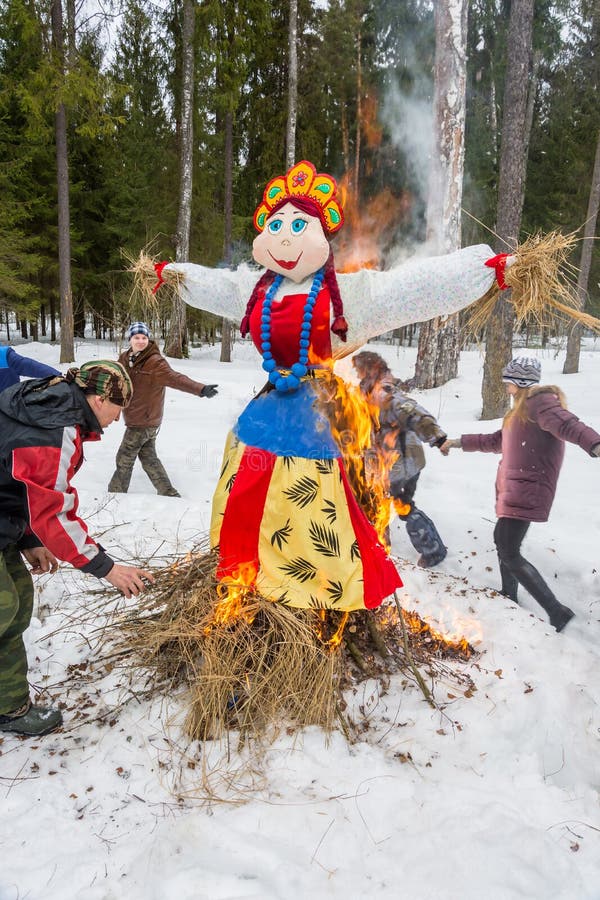 photo of Maslenitsa from Dreamstime.com
Posted by

Bronwyn Scott
at 12:41 PM
No comments:

Thursday, March 22, 2018
Yesterday it happened! I got THE CALL while I was madly typing away on a book due Sunday. Carolyn Jewel called to tell me "Dancing with the Duke's Heir" was a finalist for best novella. Shocked doesn't even begin to cover it, not because I didn't think it was a good story--I think it's a great story, that's why I entered it--but because who knows how these things go? A lot of good stories are entered every year and quite a few them don't quite make the cut, so there's always a lot of hope and luck behind the entries we all send off.
It's great to have it happen this year-- the conference is in Denver, just a short flight from my home, so I can afford to go, my agent will be there, and this novella is my 40th release for Harlequin, so it's a special story in that regard, too. And also, I think the Brockmore series as a whole is a really classy collaboration/continuity effort that I was proud to do with Marguerite Kaye. So, I love that a piece of that continuity has a chance to get some recognition.
Thanks to all of you in the writing community who turned out online yesterday with so many thoughtful congratulations and well-wishes. They are much appreciated.
As a small thank you to all those who have supported me, I have posted an excerpt from the story here:
https://www.overdrive.com/media/3272817/scandal-at-the-christmas-ball
Bronwyn
Posted by

Bronwyn Scott
at 8:31 AM
1 comment:

Monday, February 19, 2018
I loved writing Nikolay's story! The reason? Because it's more than just a romance. There are layers upon layers to appreciate, not unlike Russian culture itself. But because of that, Nikolay's story is for a very sophisticated reader's palate. I want to start with a short post here about the general construction of the story and the series.
The series as whole addresses some aspect of Russian culture, history and lifestyle in each of the books as well as addressing the immigrant story--a theme that remains relevant throughout the ages but is particularly relevant in today's news. Nikolay's story looks at the historical dilemma of change vs. tradition, something that Russian history is cyclically fraught with revolt attempts. Do not think the idea of a Russian revolution is limited to the 1917 revolution. in 1648 it was the Moscow Uprising, in 1682 it was another Moscow Uprising, in 1698 it was the Streltsky uprising, there's a pair of attempted revolts in 1817 and again in 1825 (those two are the ones Nikolay's story is built around). There was the 1905 revolt which encouraged Nikolas II to move from a monarchy to a constitutional monarchy etc. There are more, but enough said. You get the point. The series translates that tension between change and tradition into the world of Kuban, a fictional southern Russian Cossack kingdom with a repressive Tsar who refuses to reform.
Nikolay's story rotates around the St. Petersburg palace revolts, which were attempts to put a less repressive Tsar on the Russian throne. Some historical points to note: After the 1817 revolt, those who fled went abroad as one of their hiding places. And yes, cells abroad did continue to plot, and yes, the plotters for this revolution which would eventually take place in 1825 were high ranking military officers and nobles, which made it unique. So, it's not implausible that Alexei Grigoriev would be entertaining such notions or that he'd approach the discontent expatriate, Prince Nikolay for help. Nikolay is ideal-- he's a military officer and he's a prince.
Second, there is indeed a secret society called the Union of Salvation and they did indeed have two arms, a northern and southern branch. Nikolay would have been a likely member.
Third, there were indeed several arms dealers and consortiums willing to sell arms to international parties after the Napoleonic Wars. These arms manufacturers no longer had the bulk outlet they once had in the English army in a time of peace and were eagerly looking for new markets. Cabot Roan, the man who does the arm deals with Grigoriev is featured in Book #4 of the Wallflowers to Wives series, "Marrying the Rebellious Miss," as the villain.
Fourth, Kuban is a real geographic region populated by Cossacks and by those who were willing to move there. Russian colonized the Kuban region in an attempt to make it a buffer between Russia and the Ottoman empire beginning in the 1700s. A series of forts were built there and civilization followed. But beyond that, the rest is my own imaginings.
The second world-building layer I want to point out is the subtle nod to Russian literature. This book is scopey, especially for a historical series book. Like many Russian novels, this story takes place against the backdrop of sweeping events. Think Dr. Zhivago, Anna Karenina etc. this story is about two people finding one another against events so much larger than themselves, a reminder that even in times of trouble and conflict, love trumps all.
I hope you enjoy the subsequent posts about Nikolay and Klara's story!! And I hope they intrigue you to read the book.
https://www.amazon.com/Compromised-Princes-Touch-Russian-Royals/dp/1335522557
Posted by

Bronwyn Scott
at 10:08 AM
No comments:

"Scott delivers an absorbing tale with an uncommon hero, bold heroine,
elements of foreign intrigue, treachery and passion. The witty byplay between the characters and their tension-filled battle of wills fuels the readers' desire to turn the pages. The love story unfolds masterfully as the characters are caught in a conspiracy that could change the face of European politics. Brava to Scott for bringing interesting historical possibilities to light in the debut of the Russian Royals of Kuban series.
Prince Nikolay Baklanov of Kuban went from a life of war and rebellion to that of an instructor at a prestigious London riding academy. Teaching spoiled young misses is not what the dashing prince imagined. Then diplomat's daughter Klara gallops into the ring. Since her mother's death, Klara has been her father's hostess and a member of his political circle. It is her mission to ferret out Nikolay's motives for being in England and his reactions to a possible revolutionary conspiracy. She's the perfect lady, but something in the daring prince exposes her wild side. Nikolay has his reasons for not trusting Klara, but he is drawn to her intelligence, beauty and love of horses. No longer willing to be her father's puppet, Klara falls deeply in love with Nikolay, but there are many impediments and a ruthless suitor to overcome before they can find their happily ever after. "(HARLEQUIN HISTORICAL, Jan., 288 pp., $6.50)
Re-posted from Romantic Times Book Review
Posted by

Bronwyn Scott
at 9:42 AM
No comments:

Happy New Year,
2018 starts with a bang with the new Russian Royals series. This year's series features four books about Dimitri Petrovich's friends (mentioned in Wallflowers to Wives book #2 Awakening the Innocent Miss). These are the four men Dimitri trusts to bring his sister and his father out of Kuban. But they have issues of their own as they settle into their new lives. The series is sophisticated and layered, exploring the nostalgia of home and themes of relocation and re-discovery of self in a new land, while also exploring larger Russian cultural issues.
Book #1 (available January2018) Compromised by the Prince's Touch
The first book features Prince Nikolay Baklanov, a former cavalry officer in the Kubanian military. Wounded by an unsuccessful assassination attempt when he spoke out against the Kubanian Tsar, Nikolay faced trial for treason if he stayed. But after the grueling overland and sea journey to England, Nikolay now has adjust to life outside his home and the military. It's harder than he thought. He's always had a cause to fight for, and now his life is empty and the cause of reforming Kuban remains unfinished. He's at loose ends, teaching riding at Fozard's to pass the time.
Enter Klara Grigorieva, daughter of the Russian attache in London. She's on a mission: recruit the prince to her father's cause; a palace revolt in St. Petersburg to dethrone the repressive Tsar. Nikolay is tempted to join her father's cause, in part to fill the hole in him, but also for her. Klara is a temptation that supersedes even the cause of reform. But Klara has already been promised to another, an unscrupulous duke who will not hesitate to expose the secret revolt in order to see Nikolay dead.
Together, Klara and Nikolay must defy the odds in order to protect their newfound love.
https://www.amazon.com/Compromised-Princes-Touch-Russian-Royals/dp/1335522557/ref=sr_1_1?s=books&ie=UTF8&qid=1519061094&sr=1-1&keywords=compromised+by+the+prince%27s+touch
Book #2 Innocent in the Prince's Bed (Feb. 2018)
Illarion Kutejnikov, the Poet-Prince, former poet laureate of Kuban is adrift in London Society. Since his escape from Kuban and charges of libel against the Tsar, he's lost his muse. His poetry remains uninspired until the night he meets Lady Dove Sanford-Wallis, only child of a wealthy duke, and the most anticipated debutante of the Season. She is intended for an excellent high -society match, while London intends to tolerate Illarion's handsome eccentric rakishness as long as he limits himself to London's merry widows and demimonde. London doesn't want a cast-off prince with no land or assets to corrupt the purer roses of English womanhood. But when Dove sparks Illarion's creativity and his empathy, Illarion vows to pursue her.
Sheltered and protected her entire life, Dove is ready to throw off the chains of her over-protective parents. Illarion is unlike any man she's ever met, and he opens her eyes to the possibilities of a life far beyond the one that has been imagined for her, a life Dove had never questioned until now. But to claim it and the man she loves, she will have to rebel against family and long standing tradition.
https://www.amazon.com/Innocent-Princes-Russian-Royals-Kuban/dp/1335051651/ref=pd_lpo_sbs_14_t_0?_encoding=UTF8&psc=1&refRID=MDXZRV1YA053DVKC14H9&dpID=51ijxKdf5uL&preST=_SY344_BO1,204,203,200_QL70_&dpSrc=detail
Book #3 Awakened by the Prince's Passion (July 2018)
Prince Ruslan Pisarev is awakened in the middle of the night in his newly purchased London townhouse by a bedraggled Kubanian officer and his companion, a woman whom he claims is the last survivor of the royal house of Kuban, Princess Dasha. Kuban is in revolt, the royal family massacred on their front lawn. The officer wants to Ruslan to protect the princess until it's time for her to return home and re-claim the throne.
Ruslan is used to protecting others, used to spiriting them out of Kuban. This would be different. He'd have to get someone back in to the country--a country he'd thought he left behind forever. But duty calls, presenting him with not only the personal dilemma to leave the life he's built in London, but also to accept the officer's claim. The princess does not recall who she is but she is the country's best hope of peaceful transition, and the best hope of Kuban claiming the reform he and his friends had given their lives for. Ruslan will risk it all by uniting politics and love.
Book #4 Seduced by the Prince's Kiss (Aug. 2018)
Stepan Shevchenko is the last of the four princes, and he's feeling it. His nest of friends is empty. He is born leader of men and now he is alone. Now, there is no longer a reason for him to not act on the hidden flame he's carried for miles across a continent and into a new life for Dimitri's sister, Anna-Maria, except perhaps Dimitri himself and that bit about having become a smuggler of fine spirits in protest against restrictive taxation in England. It seems old habits die hard. ...
Posted by

Bronwyn Scott
at 9:39 AM
No comments: