It's finally spring here in the Pacific Northwest. It comes so late, we almost miss it. It's May now and we are careening towards midsummer in just a few weeks with hours and hours of daylight. Whether it's May Day and moving the cattle to the summer pastures, or Maslenitsa, the world is full of celebrations that surround the arrival of spring. Maslenitsa is mentioned twice in the Royals of Kuban series. First, it's mentioned as the theme for Klara's house party in Richmond where the plotters gather to plan revolution, in Book #1 Compromised by the Prince's Touch. It's also mentioned in Book #3, out Aug. 1, 2018, Awakened by the Prince's Kiss. So, what is this festival?
Maslenitsa celebrates the coming of spring. This year, it was celebrated March 4-10. It's a Russian holiday that changes every year in order to correspond to the Russian Orthodox calendar. Some call it Russian Mardi Gras since it take place the week before the beginning of Russian Orthodox Lent.
Like Mardi Gras, this is a week of feasting. In case you're wondering, maslo is the Russian word for butter, and sometimes, Maslenitsa is referred to as butter week.
The week is full of foods and traditions as people say good bye to the winter and hello to spring.
The big foods associated with the holiday are blini! (Russian pancakes). These are eaten with all kinds of toppings like berries or caviar or even sour cream. You can look the blini and other traditions here on this fun video https://www.youtube.com/watch?v=kHvOilwKxkk
Other traditional foods include sweets made with honey.
Non-food based traditions include burning Maslenitsa, as you can see in the video. Maslenitsa is burned on the last day of the festival to usher out winter.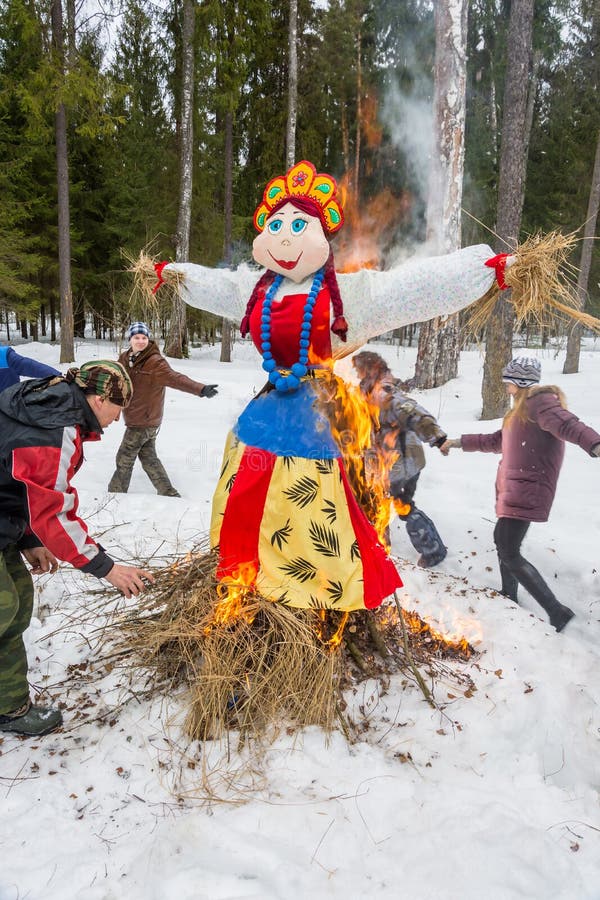 photo of Maslenitsa from Dreamstime.com